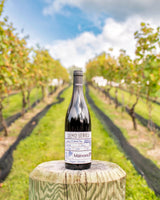 Purchase Wine
2021 Analog is a one-of-a-kind Niagara red wine brimming with irresistible flavours of ripe raspberry, dark cherry and spice. 
Inspired by Loire Valley cuvées of similar fanciful intention, enjoy this National Award Winner!
'Our Taste Trust Guarantee' - means that you can purchase with 100% confidence and 0% risk.
Shop Now
Visiting us details...
We could not be more grateful for our amazing team that work so diligently to ensure this continues, no matter what 'Mother Nature' throws our way.  And, we all know how she keeps us on our toes!
Vineyard Hillside PATIO now OPEN - PLUS LIVE MUSIC every SUNDAY afternoon, through September!
Come for a visit, enjoy a tasting flight and stay for a glass in our Wine Theatre, on the Patio or in the Vineyard.
NEW try our new Che Bello sparkling Cocktails!
Learn more and plan your visit now!
Reservations available...
RETAIL Wine Shop is OPEN for in-person shopping, 7 days a week, 10 - 6 pm (May - October).
Plan your Visit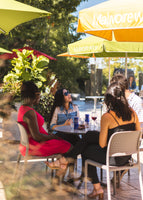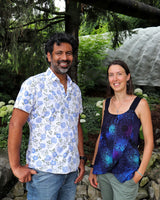 Announcing New Executive and Winemaking Team Leaders
Martin Malivoire, Founder and President of Malivoire Wines, is proud to announce two new appointments to the leadership of his Niagara winery.
Going forward, the 25-year-old winery will be under the full direction of its veteran Winemaker, Shiraz Mottiar, who
assumes the titles and responsibilities of Team Principal
and GM.
Upon assuming leadership, Shiraz made his first decision the appointment of Elisa Mazzi to be his successor as the next Winemaker for Malivoire Wine.
Testimonials
"Without a doubt, Malivoire is a beloved, favourite winery. Introduced to us by both friends and family, Malivoire is a can not miss place ... We are blown away by the service and craftsmanship at every level.
Malivoire is not to be missed!!" (read more)

Jeff and Sherri R., Nepean, Ontario
"Best Winery, Amazing Wine, Very Informative

I am so glad that we went to this classy winery and will be recommending it to everyone that I know."

Megan L Winnipeg, Canada
"We visited this winery for the first time yesterday . What a gem! Loved the wine , ambiance and the staff! Keep up the good work, we will see you again soon!

K. Brown, Ontario